DriveLock 365 Access Control

Eliminate unintentional file sharing in Microsoft 365 with one click. As a CISO, would you take the risk of accidental data loss?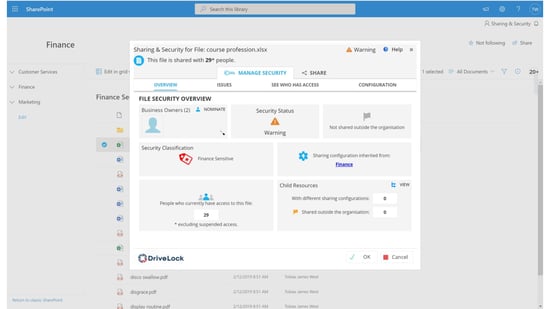 You use Microsoft capabilities across your company to share data quickly and efficiently and to facilitate collaboration.
You lose visibility over shared data, and the question of who has the access to what gets out of control.
The risk of data loss increases due to unwanted, outdated, and nontransparent access to sensitive information.
You lack the time and resources to regularly review and monitor every access and file share. Your administrators are busy with other tasks to ensure the security of your environment.
Because of the security requirements, you, as the CISO, need to demonstrate that file shares in Microsoft 365 are compliant and that external access is kept to a minimum.
Gain visibility, control and security for your shared data: automatically and easily
❯ Overview of permissions and shares of all files and directories
❯ Automated control and analysis in the background over the shared access rights, files and directories
❯ Gives data owners at-a-glance visibility into security violations for permissions or shares
❯ Simplified management through automated, attribute-based access control
❯ Define and automatically enforce the access policies for groups, roles, and individuals
❯ Secure file sharing integrated with Microsoft OneDrive, Teams and SharePoint Online
360-degree visibility across all permissions and file shares in Microsoft 365
Automated analysis and feedback processes and adjustment of access rights in case of changes
Control compliance with legal security regulations in terms of data security
Take the ownership of sensitive data at a glance
How DriveLock 365 Access Control works:
DriveLock 365 Access Control integrates seamlessly into the Microsoft 365 environment, controlling permission changes and file shares without disrupting day-to-day operations. If policy violations or unusual access rights are detected, the data owner will be notified. For the data owner, a single click is all it takes to solve the issue quickly and easily if needed.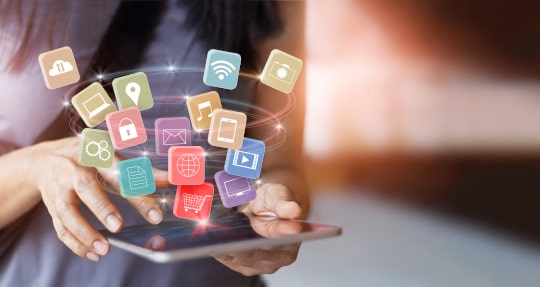 Here you will find related topics
Convince yourself: Arrange appointment and demo to find out more
No obligation. No commitment.