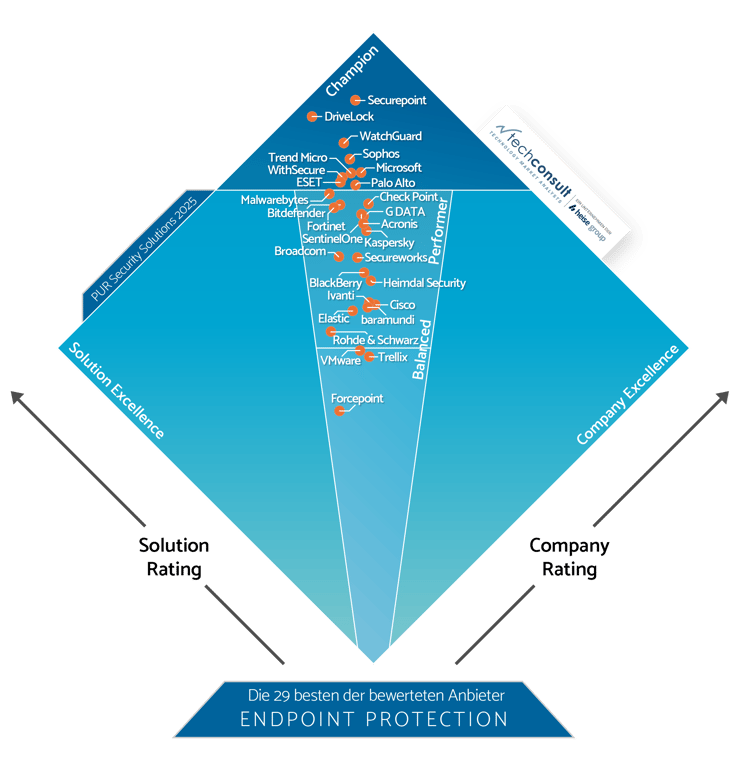 Users vote DriveLock Champion
2,000 user companies from Germany, including DriveLock customers, participated in "Professional User Rating Security Solutions 2021 (PUR-S)" - a user-survey techconsult, an analyst firm. They evaluated IT solution providers and the solutions from the security solutions sector. DriveLock excels in the category Endpoint Protection.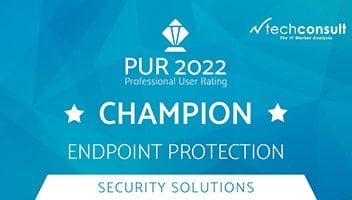 DriveLock Assessment in detail
DriveLock was rated both as a company and for its Endpoint Protection solution deployed by the users.
DriveLock users rated its solution highly in most criteria, resulting DriveLock's position far above the cross-vendor average in the company rating. DriveLock's innovative ability really stands out. With a total of 90 out of 100 index points, DriveLock achieves the absolute highest level of satisfaction in the competitive comparison.
In the solution criteria, DriveLock's Endpoint Protection is rated really well. DriveLock Endpoint Protection solutions especially help companies meet both regulatory and corporate requirements.
DriveLock also receives a extremely high rating for the functionality of its Endpoint Protection solution. DriveLock's detection of known malware and conspicuous behavior in corporate networks, as well as its prevention of malicious files and integration into the existing infrastructure, are greatly praised by its users, thanks to the cloud-based service.
DriveLock's overall functionality is also rated very highly.
The overall product portfolio, which goes beyond endpoint protection and includes a range of other security solutions such as encryption or preventive measures, is also highly regarded by DriveLock customers.
Users would recommend DriveLock without reservation
DriveLock was able to secure a Champion ranking right away in its first time participating in the Professional User Rating - Security Solutions.
"All of these excellent results mean that users would recommend DriveLock without reservation, and will always choose DriveLock as their endpoint protection vendor, with value to purchase other DriveLock products anytime."
You might also be interested in
Discover more DriveLock news
Convince yourself: Test in your own cloud environment for 30 days free of charge.
No obligation. Supported Proof of Concept (POC).
You can find out more about our events here
DriveLock Meeting Points at a glance: Events, Trade Show & Webcasts