Security Solutions und Services in Deutschland
Der Report "ISG Provider Lens™ Cyber Security – Solutions & Services 2022" unterstützt IT-Entscheider bei der Auswahl von qualifizierten lokalen Lösungsanbietern und gibt ihnen die Möglichkeit, ihre IT-Security-Budgets bestmöglich zu nutzen.
ISG betrachtet in diesem Report Softwareanbieter und Dienstleister im deutschen Markt aus folgenden sechs Kategorien: Identity & Access Management (IAM), Data Leakage/Loss Prevention (DLP) and Data Security, Advanced Endpoint Threat Protection, Detection and Response (Advanced ETPDR) sowie Strategic Security Services, Technical Security Services und Managed Security Services.
Der Report ist hier kostenfrei zum Download erhältlich.
Die Kategorie Data Leakage/Loss Prevention (DLP) and Data Security
Unter DLP (Data Leakage Prevention oder auch Data Loss Prevention) werden Produkte verstanden, die sensible Daten identifizieren, überwachen und sicherstellen, dass diese nur autorisierten Benutzern zugänglich sind und Datenlecks verhindern. Die Kategorie umfasst auch Cloud Services von Produktanbietern.
DLP-Produkten kommt eine steigende Bedeutung zu, da die Kontrolle der Datenbewegungen und Datentransfers für Unternehmen zunehmend schwierig wird:
Die Anzahl der (mobilen) Endgeräte, die Unternehmensdaten verarbeiten und speichern, wächst.
Diese Endgeräte verfügen meist über eine eigene Verbindung ins Internet, so dass Daten auch ohne Nutzung des zentralen Internet-Gateways versendet und empfangen werden können.
Zusätzlich haben die Endgeräte eine Vielzahl an Schnittstellen (wie USB, Bluetooth, WLAN, NFC), über die ein Datenaustausch ebenfalls möglich ist.
Wodurch zeichnen sich Leader aus?
Die als Leader eingeordneten Anbieter verfügen über ein hoch attraktives Produkt- und Serviceangebot sowie eine ausgeprägt starke Markt- und Wettbewerbsposition und erfüllen daher alle Voraussetzungen für eine erfolgreiche Marktbearbeitung. Sie sind als strategische Taktgeber und Meinungsführer anzusehen. Darüber hinaus sind sie ein Garant für Innovationskraft und Stabilität.
DriveLock wurde als Leader im Bereich Data Leakage/Loss Prevention (DLP) des
ISG Provider Lens™ Reports "Cybersecurity – Solutions and Services 2022" identifiziert.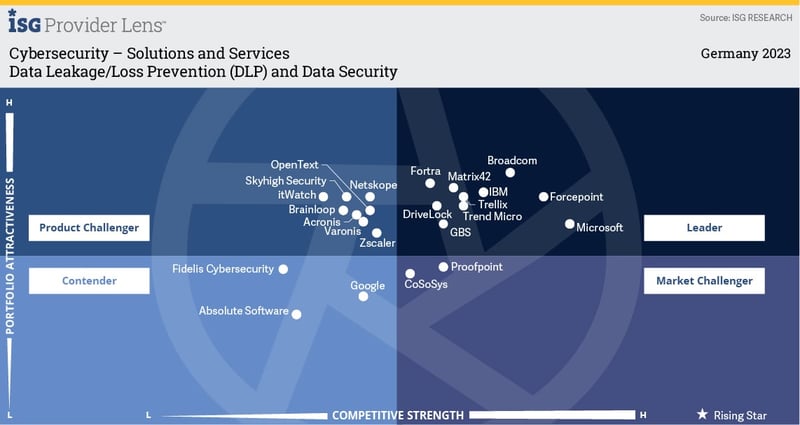 Fordern Sie hier den ISG Provider Lens™ Report an:
Mit Ihrer Registrierung erhalten Sie Zugang zu den Inhalten des Reports.